The story behind formation of Ashtavinayakadham
This is the first ever Ashtavinayakadham built in Rajasthan by Seth Govindram Charitable Trust. The trust is involved in various noble activities for the welfare of students within the temple premises. Notebooks have been distributed among students and medical camps have been organized for the students. They keep contributing towards fees of students as well as construction of computer lab at Durga Devi Saraf Management Institute (Rajasthani Sammelan), in association with Bharat Vikas Parishad and Lions Club.

The founders of this highly spiritual place are Anil Agrawal (son of Late Shri Beniprasad Agrawal and Smt Sharda Devi) and Annu Agrawal.

Despite repeated efforts to build a small Hanuman Temple, the plan never got executed due to various interruptions. This is when the idea to build an exclusive Ashtavinayaka Temple took birth as they say 'Make New Beginnings with the blessings of Ganpati Bappa'. The temple was inaugurated in February 2015 in the Dundlod town of Jhunjhunu district in Shekhawati region, Rajasthan. Within the premises, there is a Lord Hanuman temple as well as a Radhe Krishna temple.
It wouldn't have been possible to find a better location to build a temple with so much space at our disposal. For this, we are highly grateful to childhood friend Shri Umed Sharma who did all the research and unearthed an ideal location for the construction of this temple. Once the location was finalized and the idea to build Ashtavinayakadham was locked in, the temple was built with utmost precision by contractor Shri Shasikant Modi found out by another friend Shri Shrikant Halwai. Thus, with the help of family and friends, the founders managed to create a divine place in a small town of Rajasthan to seek the blessings of Ashtavinayaka.
The Trust has also built a community ground with a gathering capacity of 1500-2000 people alongwith 10 Rooms for stay purpose. The community ground is provided by Trust for various occasions such as Marriage, Birthday / Anniversary, Get-together, Religious functions, etc. Any person who wishes to book the ground can contact Trust directly (Details are provided in Contact us tab). Photos of the Ground will be uploaded soon.
---
About Shree Ashtavinayaka
Ashtavinayaka or Eight Ganeshas is located in Maharashtra state of India. The Ashtavinayaka yatra or pilgrimage covers the eight holy temples of Ganesha .All the Eight Ashtavinayak Temples are Swayambhu (self-originated) and Jagrut. Each of these temples Moreshwar (Morgaon), Ballaleshwar (Pali), Varad Vinayak (Mahad), Siddhivinayak (Siddhatek), Chintamani (Theur), Girijatmak (Lenyadri), Vighneshwar (Ozar) and Mahaganpati (Ranjangaon) has its own individual legend and history.
Here at Ashtavinayakadham, you can seek blessings of all Eight Ganeshas under one roof.
---
Krishna Bhagwaan is considered a full avatar of Vishnu, or one with Vishnu himself. He was referred to as 'svayam bhagavan' and has been known as someone who enchants the world. In fact, her world revolved only around Krishna, which made her Krishna's supreme beloved. Most of us believe that Krishna enchants the world, while Radha enchants him. Such was the love of Radha towards Krishna, that they became 'one' for the entire world. Hence, the strong belief in 'RadheKrishna' or 'RadhaKrishna'. The most popular message of Krishna, delivered through the Bhagavad Gita, in the middle of battlefield, as an instruction to the best of warriors, Arjun: "Karmanyevadhikarasthe maa paleshu kadachana, Ma karma phalaheturbhuh matey sangah astu akarmani." This verse in Sanskrit is commonly translated as, 'Do your duty, do not expect the results.'. Radha was among the well-known devotees of Krishna.
At Ashtavinayakadham, you can seek blessings from RadhaKrishna and get engrossed in the divine beauty of their idol.
Hanuman is first known as an ardent devotee or follower of Lord Rama, and then, a Hindu God. His unconditional support towards Lord Rama in the Ramayana epic is appreciated even today. Hanuman is also blessed with the blessings of being immortal. It has been the ultimate devotee of Lord Ram in Ram's time. ... Sita had blessed Hanuman after listening to Ram's message in Ashok Bhatika of Lanka that he would remain Ajar-Amar. The son of Vayu (with parents Anjana and Kesari) became the 'Vanara Bhagvan'. Hanuman, along with his 'vanara' army (army of monkeys) helped Lord Rama to defeat demon king 'Ravana' in a war and get Seeta back from Lanka. His main weapon was always the 'Gada'. Two of the popular mantras for Lord Hanuman include 'Om Hanumate Namah' and 'Hanuman Chaisa'.
Here, at Ashtavinayakadham, you can seek powerful blessings from Mahabali Hanuman.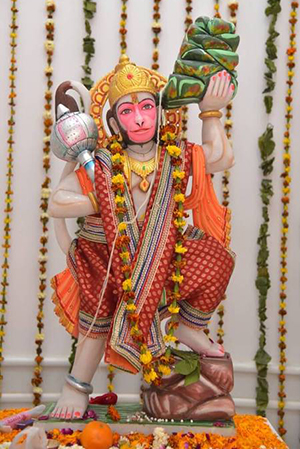 In Sanskrit, the term "Gau" means cow and many people conduct "Gau Pooja", which means cow worship. The history behind this is – Gomatha, also known as 'Kamadhenu' is an all wish satisfying 'cow of Heaven' and worshipping her (Gau) along with her calf (named 'Nandhini') is considered very auspicious. So, people worship cow and refer to her as 'mother' or 'Gomatha'.
When you visit Shree Ashtavinayakadham, you get a chance to worship Cows in Go-shaala (shelter for cows).